Everyone likes to eat some spicy & delicious Sandwich, but making Sandwich is easy doesn't mean that making the great Sandwich.
Every day more than 50% of American Eat at least one Sandwich. Peoples are so crazy about Subway which can be found in nearly every town with more than 26,000 Location in America but which Sandwich Shop reigns Supreme? Browse through the list of all types of  Sandwich Shops and Subchains and vote your favorite one from here.
Sandwiches are the human's great inventions, delicious and available in endless varieties. All you need the two slices of bread and something to put between and you've got your meal.
But do you know where the term "Sandwich" come and who made it popular? The history of the  Sandwiches is commonly associated with John Montagu which is known as the Earl of Sandwich.
According to the latest story, in the duration of 24-hour Gambling bender didn't eat anything but "a piece of beef between two slices of toasted Bread" which allow him to focus on a gambling table without ever needing to stop for repast.
This is known as the origin of The Sandwich during the Seventeenth Century. In late 1920, Sandwich took off when Gustav Papendick invented sliced bread. which is also known as the new era of the Sandwiches.
Well !!! what makes a Great Sandwich? Not only the Bread, the filling, the quality of the ingredients and how all the components work together.
The Sandwich is one of the most versatile and far-reaching types of food in which two slices of bread or between two halves of a roll. for a few years, American Restaurant has picked the Best Sandwiches in the USA.
From a classic meaty deli number to vegetable-filled bliss to inventive combos we never would have thought of (chicken fingers and onion rings anyone?), America's sandwich masters are continually turning out delicious creations.
Many states have their own regional specialties (do people eat loose meat sandwiches outside of Iowa?), while some spots just make such a great sandwich it sticks out (like the fresh mozzarella number from Pane Bianco in Arizona).
The simple staple can be made so uniquely delicious that it surprises you. We polled our favorite foodies and chefs, and not only did their reveal their favorite sandwich shops in America, but they also dished their top sandwich pick at each shop, too.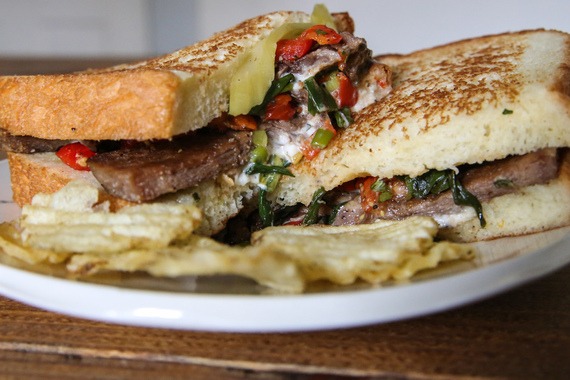 A sandwich is a dish consisting of two or more slices of bread with one or more fillings between them, or one slice in the case of an open sandwich.
Sandwiches are a common type of lunch food often eaten as part of a packed lunch. There are many types of sandwiches, made from a diverse variety of ingredients. The sandwich is the namesake of John Montagu, 4th Earl of Sandwich, a British statesman.
Major Types of Sandwich Include Following:
Two slices of bread with other ingredients between.
Two halves of a baguette with other ingredients between
Pocket sandwich
Open-faced sandwich
Best Sandwich Shops In America-
Alex Guarnaschelli: Eisenberg's Sandwich Shop — Egg Sandwich – eisenbergsnyc.com
Andrew Zimmern: Katz's Deli — Pastrami – www.katzsdelicatessen.com
Buddy Valastro: Fiore's in Hoboken — Roast Beef and Motz
Chris Kimball: Mi-Rise (Cambridge) — Smoked Pork
Clodagh McKenna: Katz's Deli — Salted Beef Sandwich
Curtis Stone: Gwen/Bay Cities — Meatball/Godmother
Daniel Holzman: Bay Cities in Santa Monica — Godmother
Daym Drops: D'Angelo's — Steak & Cheese
Don Drucker: Superdawg — Superdawg – www.superdawg.com
Duff Goldman: Sandwich Pizza — Chicken Parm
Emeril Lagasse: Central Grocery — Muffaletta – www.centralgrocery.com
Fabio Viviani: Pork & Mindy's — Bao to the Pork
Floyd Cardoz: Roli Rotie cart — Porchetta Sandwich
Gail Simmons: Court St. Grocers — Broccoli Reuben – www.courtstreetgrocers.com
Geno Vento: Geno's Steak — Cheesesteak
Graham Elliot: Central Grocery — Muffuletta – www.centralgrocery.com
Hugh Mangum: Eventide — Lobster Roll
Jason Smith: Wallace Station (KY) — Country Ham Pimento Cheese – www.wallacestation.com
Jeff Mauro: Langer's Deli — Pastrami on Rye
Jet Tila: Langer's Deli — Original 19 – www.langersdeli.com
Josh Capon: Katz's Deli — Pastrami on Rye (half cole slaw and Russian dressing, half mustard)
Kelsey Nixon: Ed's Lobster Roll — Lobster Roll
Marc Murphy: Lenwich
Melissa Clark: Russ & Daughters — Bagels & Lox
Michael Chernow: Bay Cities — Godfather
Mike Solomonov: Willa Jean — Fried Chicken Biscuit
Richard Blais: Katz's Deli — Pastrami
Ryan Scott: Yellow Submarine (San Fran) — Avocado & Cheddar
Scott Conant: Faicco's — Italian Hero
Stephanie Izard: La Sandwicherie — Frenchi – www.lasandwicherie.com
Sunny Anderson: Pork & Mindy's – www.porkandmindys.com
The Pizza Cousins: Roll n' Roaster — Roast Beef & Cheese – www.rollnroaster.com
Top Greatest Sandwiches –
Here We've listed the top greatest Sandwiches depending upon the selection of Bread & Filling, some of the most popular Sandwiches are:
Egg Salad Sandwiches-
Egg Salad Sandwiches are generally formed as the two slices of cheap bread holding a mixture of hardboiled egg, mustard mayo, salt, pepper, and probably some onion & celery for crunch.
The Dagwood Sandwiches-
The Dagwood Sandwiches are imposing in size, Open-Armed to ingredients of all stripes and colors, frustrating to work with, and ultimately hellbent on crushing you.
Ham And Cheese Sandwiches-
The Ham & Cheese Sandwiches are suffered from its overwhelming popularity. Generally, you're working with sliced deli meats, which tend to be watery and underwhelming, barely standing up to the bread they sit on.
The Primanti Sandwiches-
The Primanti Sandwiches are conceived as a sandwich that truckers could eat with one hand while steering a rig with the other (unlike, um, every other sandwich ever).
The Club Sandwiches-
The clubhouse sandwich is cloaked in mystery, its exact birthplace being unknown to this very day (though a common theory is that it was birthed in 1894 at the Saratoga Club House).
Fish Sandwiches-
The Fish Sandwich is more universally feared by children than the boogeyman, clowns, and the Chinese government's habitual economic manipulations combined, but before you throw the baby fish out with the Gorton's bathwater, consider that many chefs have made it their personal mission to salvage the sinking Filet-O-Fish.
Chicken Salad Sandwiches-
It's easy to forget about the humble chicken salad sandwich, but, you know… don't. In the late 1800s, the price of chicken was so steep that only the Monopoly Man could afford to eat it, let alone douse it in mayonnaise and toss it with luxury ingredients like… wait for it… spices.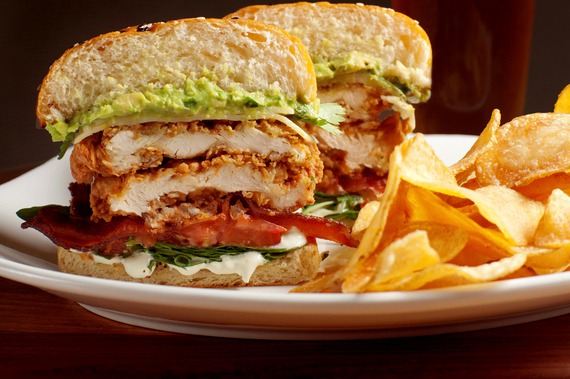 Best Sandwiches In USA-
Looking for Best Sandwiches in the USA? Here we have covered all-time best Sandwiches Shops In America:
California: The Godmother at Bay Cities Italian Deli-
Every sandwich shop has its own version of the Italian sub, but none compares to the paradigm that is the Godmother at Bay Cities. Since 1925, the old-school deli has been stacking all manner of cured meats including prosciutto, ham, capicola, mortadella, and salami with the works (a mix of veggies and condiments, as well as a lively chopped pepper mix) onto a crusty stretch of Italian bread bursting at the seams.
Hinoki and the Bird, Los Angeles: Lobster Roll-
This four-bite sandwich is anything but your standard lobster roll. For starters, there's the striking, jet-black bun, made from charcoal-enriched flour, which imparts a slightly earthy grittiness.
Vietnamese green curry and garlic aioli punch up the flavors of the traditional mayonnaise dressing, while Thai basil leaves and flowers are a fresh (and pretty) finishing touch.
No. 7 Sub, New York: Broccoli Sub-
This combination of roasted broccoli, salted ricotta, peanuts, and pickled lychees stuffed into a mayonnaise-lubed hoagie is unconventional, but it works.
The secret is in the balance—between sweet and salty, creamy and crunchy—and the mostly white bread (with oats, wheat bran, and flaxseeds), baked fresh daily.
In addition to the original location at the Ace Hotel, you can find chef Tyler Kord's inspired creations at the Plaza Hotel and in the Brooklyn neighborhoods of Greenpoint and Dumbo.
Florida: The Medianoche at El Palacio de Los Jugos-
Don't get mad: We love a classic Cuban sandwich as much as you do. And El Palacio makes a damn fine one, with the perfect ratio of meat to cheese to pickles.
But those in the know find their way to this Miami chain for the Cuban's sweeter cousin, made on pressed challah-like eggy bread. Grab a fresh pineapple juice on your way out.